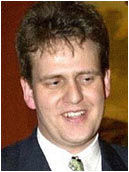 Deputy director, German Wine Institute and director of its export department, 37, Biebelsheim, Rheinland-Pfalz, Germany; Wife, Silke; son, Lukas, 7; daughter, Theresa, 5; He was flying to San Francisco for a wine-tasting event to showcase the 2000 vintages.

The first time folks saw Christian Adams toting heavy cases or uncorking bottles at refined wine-tasting events, they didn't always realize that the youthful, reserved German was an important fellow.

"One of the most impressive things about Christian was his willingness to dive in and do whatever needed to be done," said Carol Sullivan, director of the German Wine Information Bureau in New York. "No job was ever beneath him."

But through hard work and skillful networking, Adams, 37, of Biebelsheim, Germany, had risen high in the world of wine production and promotion. As deputy director of the German Wine Institute and director of its export department, he was responsible for promoting one of his country's most-prized products.

"He was the hub in the wheel," said Sullivan, who represented the institute and worked closely with Adams for a dozen years. "There was no one more interested in wine."

Sullivan met Adams in 1989 at a German Wine Society convention in Los Angeles, while he was still a student working on a marketing degree at the University of California, Davis. He'd already obtained a degree in winemaking and grape-growing from a German university and was determined to build a career around wine.

"One of the things that impressed us most was his depth of knowledge," Sullivan said. Wine Institute officials were so taken by the young man that, later that year, they asked him to help with a symposium on Riesling grapes. There, he met the director of the institute, who hired him to work in its export department. He became deputy director in 1995.

Married and the father of two children, Adams also ran the Weingut Schnell winery in Biebelsheim, which was owned by the parents of his wife, Silke. He worked hard to stay in good physical shape and enjoyed playing and watching volleyball and basketball games. Although he was quiet, he enjoyed sharing a good joke with friends and colleagues.

"Representing the various interests of an entire industry can be a political minefield, but he had the respect of so many people," Sullivan said. "His success came from his thoughtful, quiet manner. He never made rash decisions and everything he did was always well-considered."



Copyright © 1997-2005 PG Publishing.



FAIR USE NOTICE This site contains copyrighted material the use of which has not always been specifically authorized by the copyright owner. We are making such material available to pay our respects to those affected by the loss of United Airlines Flight 93 on September 11, 2001. We believe this constitutes a 'fair use' of any such copyrighted material as provided for in section 107 of the US Copyright Law. If you wish to use copyrighted material from this site for purposes of your own that go beyond 'fair use,' you must obtain permission from the copyright owner.