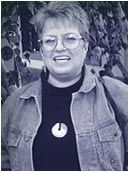 Executive director, Progressive Center for Independent Living; vice chairwoman of the New Jersey Developmental Disabilities Council, 51, Elizabeth, N.J.; sister, Christine Fraser; brother, Bruce James Fraser; two stepsisters, six stepbrothers. She was on her way to a grant-writing seminar in Reno, Nev.

Whether gazing on an oddly formed hunk of driftwood or a person with disabilities, Colleen L. Fraser always saw the possibilities.

Relatives and friends collected wood or metal objects, knowing Fraser would convert them into art. She worked the same magic fordisabled people, transforming once-limited existences into independent, productive lives.

Like her father and younger sister, Fraser was born with a bone condition that necessitated multiple surgeries and kept her height at 4 feet, 6 inches. But her father convinced his three children and eight stepchildren they could accomplish anything, and Fraser found further assurance in the tiny copy of the Constitution she carried in her wallet.

"She loved the idea that all people are created equal," said Ethan B. Ellis, executive director of the New Jersey Developmental Disabilities Council, of which Fraser was vice chairwoman and past chairwoman. "This woman believed the most important thing she could do was to convince [others] of the humanity of people with disabilities."

In numerous jobs and board positions, Fraser lobbied on local, state and national levels for services for the disabled. Her advocacy was geared toward helping disabled people live and work in communities rather than in institutions.

Artistic and theatrical, Fraser studded her ears with pierced earrings and spiked her red hair in a crew cut. She created striking ensembles by mixing conservative jackets, jeans or bohemian prints, then adding scarves or one-of-a-kind brooches. A favorite brooch -- a cluster of people of all shapes and sizes -- symbolized her ideal world.

Unable to find walking canes she needed in correct proportion to her height, she carved them herself. Later, she branched out to create intricate Madonnas and figurines. She loved independent and horror films, gothic novels and fine literature. For friends' birthdays, she baked sugar cookies in quirky shapes, then laughed in glee at the responses.

"My sister used to joke about being on some FBI list because she protested against the Vietnam War," said her sister and housemate, Christine Fraser. "Now the FBI is coming to our house on her behalf. She would find that very funny."