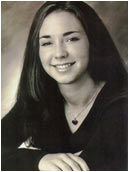 Junior, Santa Clara University, 20, San Diego, Calif.; mother, Deborah Borza; father, Derrill Bodley; half-sister, Murial. She was returning home after visiting friends in New Jersey and Connecticut.

In Ursula K. LeGuin's classic science fiction novel, "The Lathe of Heaven," the main character's dreams are capable of changing reality.

It was one of Deora Bodley's favorite books, possibly because the idea of creating a world without wars, disease and overpopulation was one of her goals.

"She was always thinking big and going after big game," said Chris Schuck, who taught Bodley as chairman of the English department at La Jolla Country Day School near San Diego, Calif.

As an 11-year-old, she wrote in one of her journals, "People ask who, what, when, where, how and why. I ask peace."

Bodley, was a junior at Santa Clara University, where she majored in psychology. An insightful writer who was fluent in French, she coordinated college volunteers in a literacy program at a nearby elementary school.

Kathy Almazol, principal at St. Clare Catholic Elementary, said Bodley had "a phenomenal ability to work with people," whether it was the children she read to, her peer volunteers or the school administrators and teachers.

"We have 68 kids who had a personal association with Deora," Almazol said.

Bodley wanted to be a child psychologist because she saw the problems children faced growing up.

Growing up with her mother in San Diego -- her parents divorced when she was 2 -- Deora, which is Gallic for "tears," always seemed older than her age. She traveled with her father to Switzerland when she was just 3 1/2 and often flew to the East Coast.

Schuck remembered reading one of her middle school homework papers and being struck by her honesty.

"You'd read her work and say, 'Am I that honest and truthful with myself?' " he said.

As a high school student, she had enthusiastically traveled to area high schools to discuss sexually transmitted diseases and AIDS with her peers. She also volunteered with the Special Olympics and a local animal shelter.

"She was just burning way too bright," said her mother, Deborah Borza.

She recently found a journal entry written by her daughter when she was 13.

"If I would just live for the moment," the entry went, "and make every moment count, maybe the future would work out. Maybe that moment would be a doorway to the future."