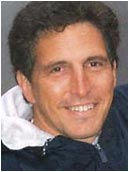 Executive vice president and chief financial officer, Safe Flight Instrument Corp., 52, Greenwich, Conn.; wife, Claudette; son Charlie, 14; daughter Jody, 10. He was headed to join four of his brothers for a hiking trip.

Donald Greene could open a bag of potato chips, eat only two or three and then walk away. His philosophy: No matter how much you eat, the first bite is the best.

Eager and inquisitive, Greene took little bites of many things. He learned to love the opera, to sail, to ski black diamond trails, to fly at age 14. The same discipline that tempered his desire could be seen in his meticulous pre-flight examination of the planes he piloted.

Greene, one of four brothers, was born in White Plains, N.Y. After his father died, his mother married Leonard Greene, the inventor of the stall warning indicator used in aircraft today, and a single father of three children. Greene adopted Donald and his three brothers, who gained one sister from the union of their mother and Leonard Greene. Shortly thereafter, Donald's mother died. Leonard then married a divorced woman who had four children of her own. The Greene family thus ballooned to 12 children.

Every Thanksgiving, all the siblings made a point of gathering for a week at a resort; Greene carried that same emphasis on family to his own brood. He dined with his wife and children every night at their Greenwich, Conn. home, whipped up breakfast for them most weekends and coached children's soccer teams. He also took the children flying.

A 1971 engineering graduate from Brown University, Greene worked several jobs before earning a business degree.

It was then that his father recruited him to his company, Safe Flight Instrument Corp., seeking his expertise as a business administrator and negotiator. Greene's people skills served him well both at work and social gatherings. At dinner parties, people wanted to sit next to Greene because of his pleasant personality and inventive plays on words.

He met his wife, Claudette, during a black tie fund-raiser in 1987.

That night, all the facets of his personality converged -- his down-to-earth nature, positive outlook, charm and his piloting skills.

The event was held in an airplane hangar, with small planes parked in a semicircle to create an intimate space. They were one short, so Greene's stepmother, a museum president, asked him to fly in the final plane as a favor. She promised him a reward: a ticket to the dinner and dance. Greene told her he'd be happy to help, but forgot the ticket.

When he arrived, though, Greene acquiesced, agreeing to stay. He found himself seated next to Claudette, whose own date, her brother, had canceled. They hit it off right away.