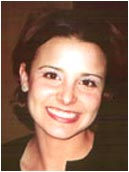 Student, West Valley College, 21, San Jose, Calif.; mother, Cathy Stefani, stepfather Wayne Stefani; father, David Miller, stepmother Catherine Miller; sister, Tiffney Miller, half-sister, Danielle Miller; half-brothers, Wayne Stefani Jr., David Miller Jr. She was returning home after vacationing in New York and New Jersey with her boyfriend, Ryan Brown.

Nicole Miller never stood still. A radiant dynamo, the 21-year-old student, with model-good looks and a smile that instantly endeared her to people, worked so hard that her mother often bugged her to rest.

"She'd come home at 1 in the morning and get up at 6 o'clock," said Cathy Stefani of San Jose, Calif. "She was non-stop."

During a typical week, Miller attended classes at West Valley College, where she was a senior, taught weight training to IBM employees, waited tables at Chili's, and did promotions for a beverage distributor by manning booths and handing out fliers.

To wind down, she did two-hour workouts.

When she was younger, Miller became fascinated with flying, always gluing herself to the window when she boarded a plane. She dreamed of becoming a pilot, but bad eyesight caused her to rethink her career goals. And so Miller pursued studies in nutrition -- she favored chai lattes with soy milk, and mustard on her chicken -- and physical therapy.

In the midst of her hectic schedule, Miller made time for her boyfriend of six years, Ryan Brown. They met during a ski trip to Lake Tahoe during their junior year of high school when the somewhat tipsy Brown roved the aisle of the charter bus and bantered with friends.

While making his rounds, Brown began to fall asleep. Miller, who didn't know him, asked the football player if he wanted to sit down next to her. He did, passing out in her lap and dribbling on her leg.

She apparently didn't mind; they were an item from then on. The two became serious, talking occasionally of marriage. By the time Brown was at Marine boot camp after high school, Miller was sending letters to him with the return address "Nicole Miller-Brown."

Brown wasn't the only one smitten by Miller's vibrant demeanor. She had recently bought a new cell phone from Radio Shack. After her death, the salesman called Stefani to express his condolences. He told her that he had only known Miller for an hour, but he could sense her sweetness.

"To me, she was my little innocent girl," Stefani said. "To everyone else, she was like a movie star."

Click here to visit the family's Nicole Miller memorial website.