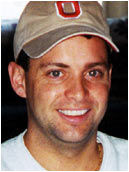 Account manager, Oracle Corp., 32, Cranbury, N.J.; wife, Lisa; sons, David, 4, Drew, 2; he was traveling to Redwood Shores, Calif., for a business meeting and had planned to return to New Jersey that night.

As an adolescent, Todd Beamer defined himself by athletics. He excelled at Wheaton, Ill., Christian High School in baseball, basketball and soccer. And when his family moved to California before his senior year, Beamer used sports to make new friends. He also made the honor society.

He attended Fresno State University to play baseball, with an eye toward a professional career, but he soon realized that was not in his future. He returned home to Illinois to attend Wheaton College, a coed Christian school just northwest of Chicago. It was there, during a senior seminar class, that he first met his future wife.

Lisa Beamer knew who Todd was -- a jock. But, she told her roommate, "sometimes people aren't what you think they are."

Their first date was Nov. 2, 1991; they had planned to mark the 10th anniversary of that date this year.

After he earned a master's in business administration from DePaul University in Chicago, the couple married in 1994 and moved to Princeton, N.J., where Beamer began his career with Oracle Corp. selling systems applications and database software.

The couple taught the senior high school Sunday school class at Princeton Alliance Church for six years, and Beamer was a stalwart on the church softball team. He did not shy away from bowling over another player if it meant winning.

Last year, the couple moved to Cranbury, N.J., 15 miles from Trenton, and Beamer made sure the game room was a shrine to his beloved Chicago Cubs, Bulls and Bears. The furnishings included a Cubs pinball game.

Their two sons, ages 4 and 2, competed with each other to meet their dad first when he came home from work. Beamer often pulled into the driveway and let the boys climb inside with him to "drive" into the garage.

Beamer's work forced him to travel up to four times a month, sometimes for as long as a week. He was good at his job, and was on his cell phone constantly. This year, he earned a five-day trip to Italy with his wife for being a top sales performer.

They returned home on Monday, Sept. 10, at 5 p.m. While Beamer could have left that night for a Tuesday business meeting in California, he wanted to spend time with his sons and his wife, who is due in January with their third child.

He left home at 6:15 a.m. the next morning, planning to return on a red-eye flight that night.



Copyright © 1997-2005 PG Publishing.



FAIR USE NOTICE This site contains copyrighted material the use of which has not always been specifically authorized by the copyright owner. We are making such material available to pay our respects to those affected by the loss of United Airlines Flight 93 on September 11, 2001. We believe this constitutes a 'fair use' of any such copyrighted material as provided for in section 107 of the US Copyright Law. If you wish to use copyrighted material from this site for purposes of your own that go beyond 'fair use,' you must obtain permission from the copyright owner.