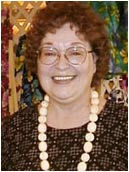 Antiques dealer, 55, Honolulu, Hawaii; Daughter, Laura Brough. She was returning home after an antiques-buying trip to New Jersey.

As a single mom in 1976 needing to support her infant daughter, Georgine Rose Corrigan turned to what she knew best: schmoozing and hard work.

She parlayed a brief client transaction that year while working as a bank teller in her native Ohio into a job with the Bank of Hawaii. Setting up home in a one-bedroom apartment in Honolulu with her then-6-year-old daughter, Corrigan hit the ground running.

Juggling the bank job with a second one as a paid babysitter at a Hilton hotel, she later managed beauty salons, designed logos for a textile firm, painted Hawaiian floral prints on Christmas ornaments and drew silhouettes. Her daughter, Laura Brough, recalls her mother working such long hours that on Sundays, while the exhausted Corrigan slept, Brough would walk herself to church.

Seven years ago, Corrigan entered the perfect marriage -- with antiques. It was natural for her; her parents had collected antiques and her brother, Robert, owned several cars from the early 1900s.

Smiling and making friends as she scoured markets and sales, she picked up pieces for her growing number of clients who collected European, Oriental and Hawaiian antiques. Corrigan sold her wares at shows in Hawaii and on the mainland.

She also bought and sold vintage jewelry and clothes, letters from the early 1900s and anything having to do with roses, because Rose was her middle name. For several years she owned her own antiques shop.

In 1998, Corrigan moved in with her daughter's family. Mother and daughter shared an interest in art collecting, but it was being a devoted grandmother to her 6- and 4-year-old grandsons that gave Corrigan her greatest joy.

"When she was home, she was here to eat, sleep and play with the kids," Brough said.

Her mother had a low pain threshold -- "She would cry at a paper cut," Brough said -- and she often told her daughter that she felt like she'd suffered numerous disappointments in life.

But, her mother would add while enduring those difficult times: "God is teaching me a lesson now. I don't know what it is, but I'm sure we'll see the light at the end of the tunnel."