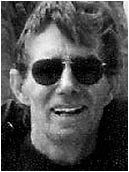 Ironworker & Army Veteran, 60, West New York, N.J.; wife, Margaret. He was traveling with friend Patrick Driscoll to hike in Yosemite National Park.

When William Cashman first took up karate about 10 years ago, he thrilled to the idea that he could break a wooden board with his hands.

Let's see, challenged his wife, Margaret.

Cashman, tall and wiry like a marathon runner, asked her to brace herself against the dining room wall and hold out the board.

KA-CHOP! Cashman smashed the piece of wood, showering little splinters over his wife. Margaret was so impressed that she invited a friend over and asked that he do it again.

For about three years, Cashman studied karate, working his way up to a red belt before a stomach operation forced him to quit.

The martial arts fit his tough-guy guy background. Born and raised in New York City's Hell's Kitchen neighborhood, Cashman worked with his hands like his brother, a fellow ironworker, and father, a construction worker. Cashman served in the early 1960s as a paratrooper in the 101st Airborne Division, known as the Screaming Eagles.

But his personality belied that aggressive image. Cashman taught welding at night at the Metal Lathers Local 46 school, part of his philosophy of giving back to the union and helping young apprentices.

He was the kind of guy who preferred to listen to a joke rather than tell one. He didn't curse - at least not strongly. And he was patient; welding demanded it.

He also was the only one of Daniel Belardinelli's uncles to show up at his nephew's painting exhibits.

Although Cashman was not an artsy sophisticate, he wasn't afraid of venturing into the unknown. Cashman displayed an interest in his family and wanted to support it. He was the first one to retain his nephew's services when Belardinelli earned his law degree.

"For someone who was a blue-collar guy, he was a very interested person," Belardinelli said.

Early to bed and early to rise, Cashman was quiet and set in his ways. He paid cash for everything, including cars and property, spoke so quietly he could hardly be heard and drove slowly on the highway.

Although he had to give up the martial arts, Cashman could still hike, and he took frequent day trips to Harriman State Park near his home in West New York, N.J. He had already made two visits out west with old friend Patrick Driscoll.